Opening to the public on Tuesday, November 18th, this interactive exhibit designed by C&G Partners celebrates the 75th anniversary of the Federal Deposit Insurance Corporation (FDIC), the independent deposit insurance agency created by Congress in 1933 to maintain stability and public confidence in the nation's banking system. The exhibition, open to the public on 17th Street in Washington, DC, a block from the White House, steps through the history of the institution, the forces that steered its evolution, and its mission to protect the financial well-being of all Americans. Originally planned to be a year of retrospective celebration, the anniversary year actually fell during one of the most hard-hitting financial crises of modern times.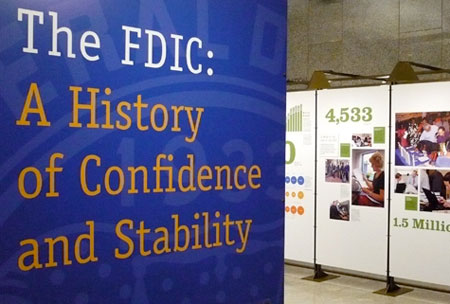 Historical information is presented with a flexible, magazine-like editorial layout, filled with colorful imagery, facts and large-scale numbers. Explanatory graphs, charts and diagrams demonstrate the process of investigating banks, ever-increasing levels of financial protection, and the number of banks that failed before and after the founding of the FDIC.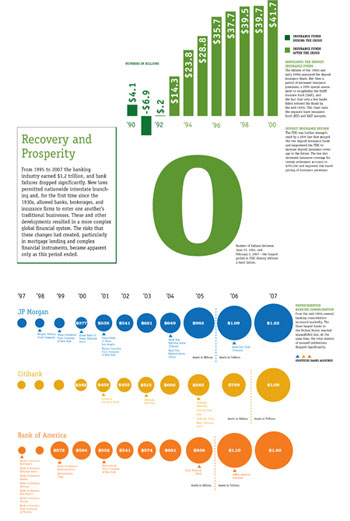 Changeable artifact cases feature treasures from the FDIC's collection, from piggy banks to secret bankers' code books, and a set of audio MP3 sound sticks replay the famous speech by FDR that laid the groundwork for the creation of the agency. The exhibit also features an interactive touch screen fitted out with vintage newsreel footage, explanations of banking and finance, and public service announcements created by the FDIC to promote the financial literacy of the American public. The PSA's are part of a larger FDIC campaign featuring finance guru Suze Orman.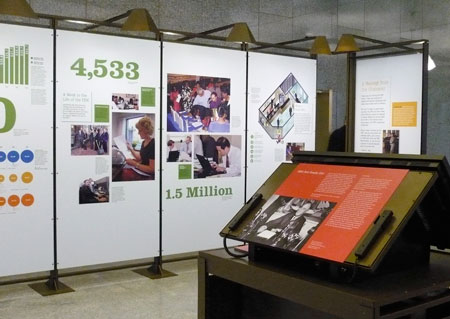 The project was designed to appear to be an original part of the building lobby, so that FDIC can re-use the exhibit structure in future for new informational displays without moving the system to a new location. The design team was led by Jonathan Alger, with graphic design oversight by Emanuela Frigerio and interactive design oversight by Maya Kopytman.