This week saw the public opening of Against the Odds: American Jews and the Rescue of Europe's Refugees 1933-41, an exhibition designed by C&G; Partners for our longtime clients, the Museum of Jewish Heritage: A Living Memorial to the Holocaust in downtown New York. As always, we are very fortunate to have the support of the Museum, who see design as a way to better engage audiences. C&G; Partners was responsible for all exhibition design, interactives, multimedia and graphics.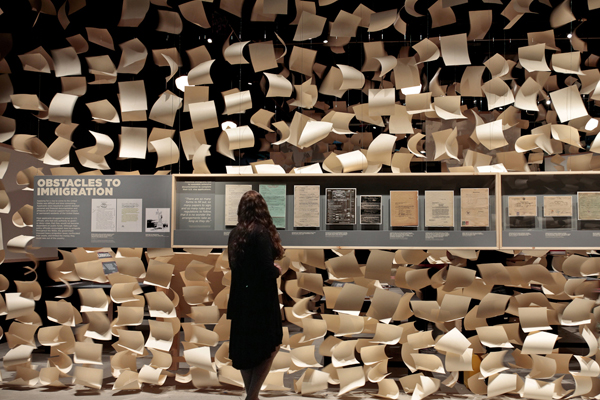 According to the museum's blog, visitors have been generous in their praise for the design, even referring to it as "brilliant". The Wall Street Journal has also published a positive review of the project.

A quick excerpt:

This wrenching and elegant exhibition tells its story, of both rescue and the impediments to rescue, almost as much through design (by C&G; Partners) as content. It is constructed as a sort of maze with walls of paper. Exhibits are displayed not in conventional vitrines, but on slabs resembling tables (evoking endless visits to U.S. consulates) or (closed) doors. Color, too, is used effectively, with text panels in red, for instance, denoting high danger and those in black symbolizing the cutoff of avenues of escape once World War II began.

More images to come. Our sincere gratitude goes out to the Museum, to the supporters of the exhibit, and to the individuals, groups and families chronicled in this remarkable story.