We're very pleased to announce two new Associate Partners in the studio. For over two decades, Alin Tocmacov (left) has led multi-disciplinary creative teams in the design of exhibits and experiences for cultural and commercial clients in Europe, the Middle East, Canada and the United States. Leslie Dann (right) has been a user experience designer at the forefront of digital media for over twenty years.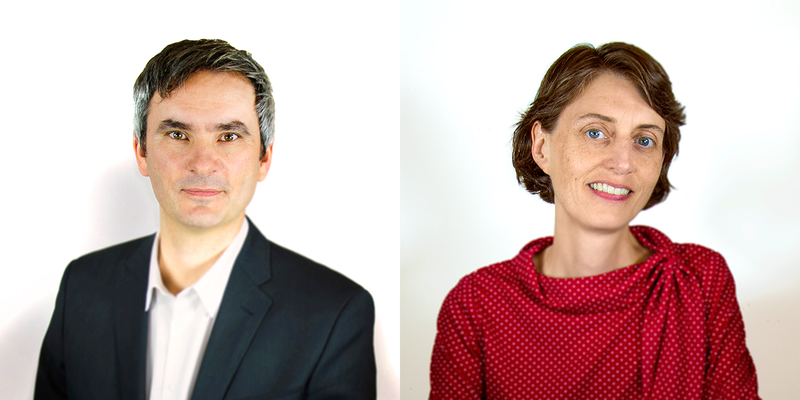 As a former Assistant Director of User Experience at MRY, a creative and technology agency, Leslie Dann developed experience strategies and designed numerous user-centered interfaces for marketing and self-service websites, mobile platforms and digital campaigns with strong social media elements. Clients included Massachusetts General Hospital, National Grid, Penguin, WebMD, Google, Nestlé Waters NA, MasterCard, Moleskine Shop, Johnson & Johnson consumer brands and the Colon Cancer Challenge Foundation.
Ms. Dann spent many years in Madrid as a user experience consultant for European technology giant Indra, creating portals for eCommerce and eGovernment websites, while at the same time founding and operating a video production service, Cruz Dann Productions, with her husband Guido Jiménez-Cruz. Together, they wrote, directed and produced various short fiction and documentary films that have been recognized at international festivals. She holds a Bachelor of Science in Graphic Design from the University of Cincinnati, and her work has received major awards from The One Show, Communication Arts, Graphis and other design organizations.
Alin Tocmacov's critically acclaimed cultural projects and clients include the Canadian War Museum in Ottawa, the Dutch National Museum of Antiquities in Leiden, the Scheepvaart Maritime Museum in Amsterdam, and the National Children's Museum in Amman. More recent projects include the Museum of America and the Sea in Mystic Seaport, the Fort McHenry Visitor Center in Baltimore, and the National Center for Civil and Human Rights in Atlanta, which opened in June 2014.
Prior to joining the firm, Alin was a lead designer at Rockwell Group, where he worked with some of the world's most renowned brands, including Google, Coca-Cola and Swarovski, translating brands' core values into inspiring environments and experiences. Originally from Switzerland, Alin has a Master's degree of Architecture from the École Polytechnique Fédérale de Lausanne. He began his career by founding Surface32, a Swiss-based design studio that aimed to bridge the gap between two-dimensional visual medias and physical environments. After a half-decade based in the United Kingdom as a senior exhibit designer for the international museum and heritage design consultancy Haley Sharpe, he relocated to the United States in 2006. Alin is a member of the Society of Experiential Graphic Design and the American Alliance of Museums.