Design motifs of redaction, declassification, and crime scene investigation are central visual components of Revealed: The Hunt for Bin Laden. The new special exhibition at the National September 11 Memorial & Museum features never-before-seen FBI and CIA documentation about the decade-long pursuit of the perpetrator of the 9/11 attacks.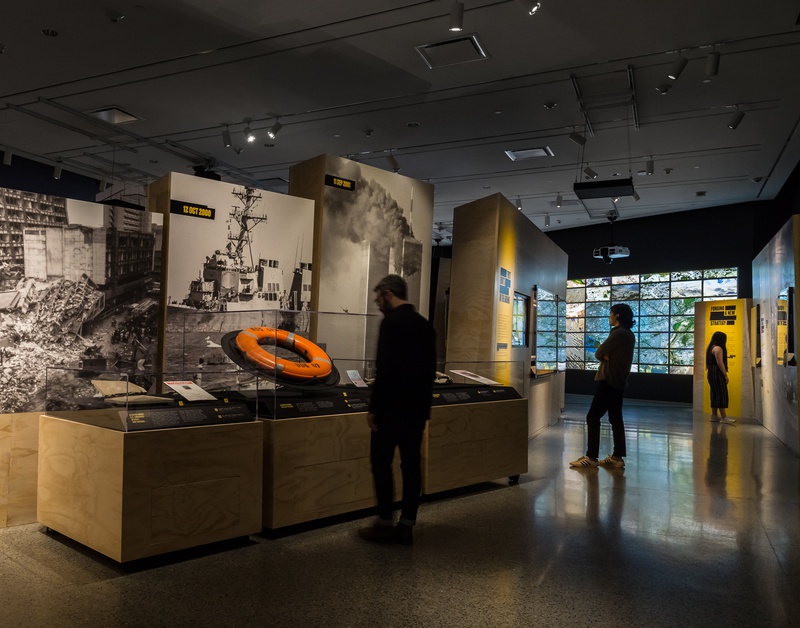 The 2,900 square-foot, chronological exhibition with over 60 artifacts is designed to place visitors in raw terrain evocative of the forensic investigation and the operation leading to the capture of bin Laden.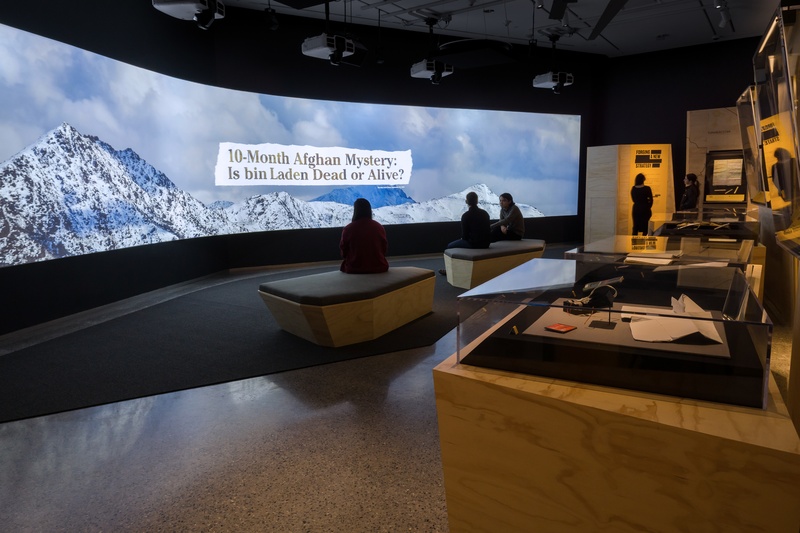 Working with the leaders and staff of the National September 11th Memorial & Museum, we treated the narrative as a crime story, albeit a horrific one at a huge scale. Like a police procedural, it is a story of driven professionals who unite to pursue clues and seek justice.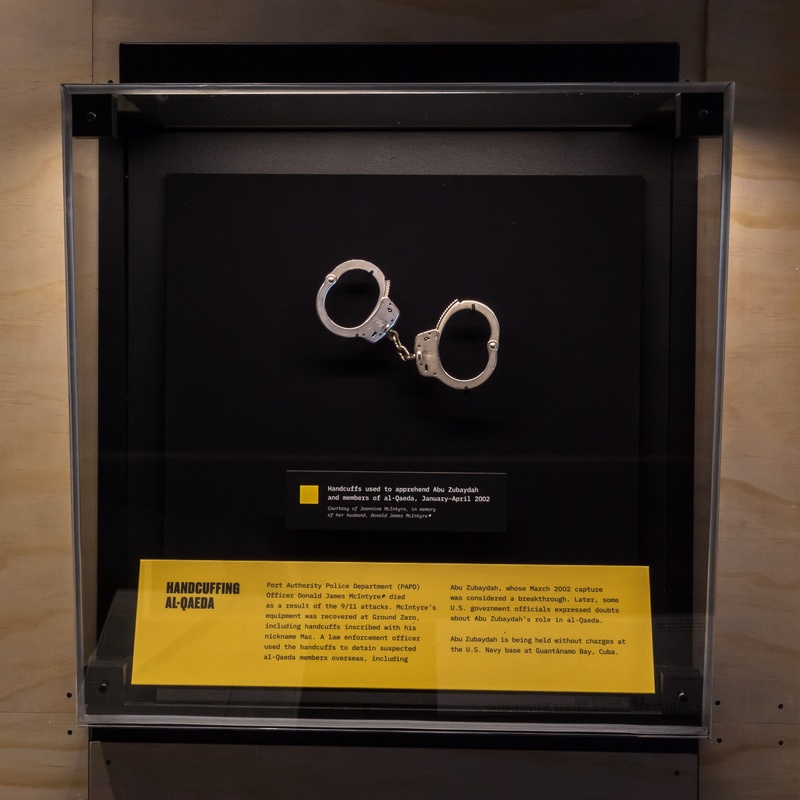 Here as in other projects, physical space becomes a storytelling medium, creating a sense of place, time, and plot to amplify the museum experience. To do this, the design borrows visual techniques from a range of sources. The exhibit is built of tall angled "shards" of raw plywood, no two alike, which can be assembled to evoke a mountain canyon, military field office or residential compound. The shards hold objects, media, and text.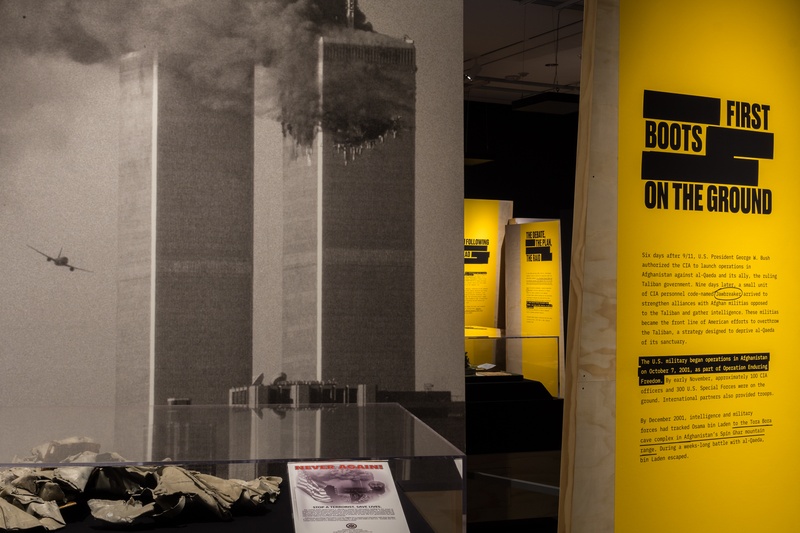 Evidence markers from crime scene investigation inform the color and typography of the show.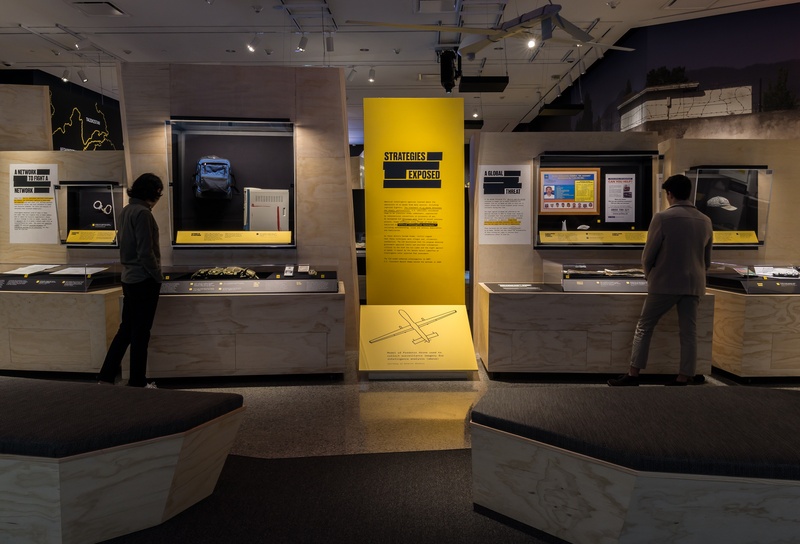 The idea of declassification inspires the use of redaction as a graphic motif throughout.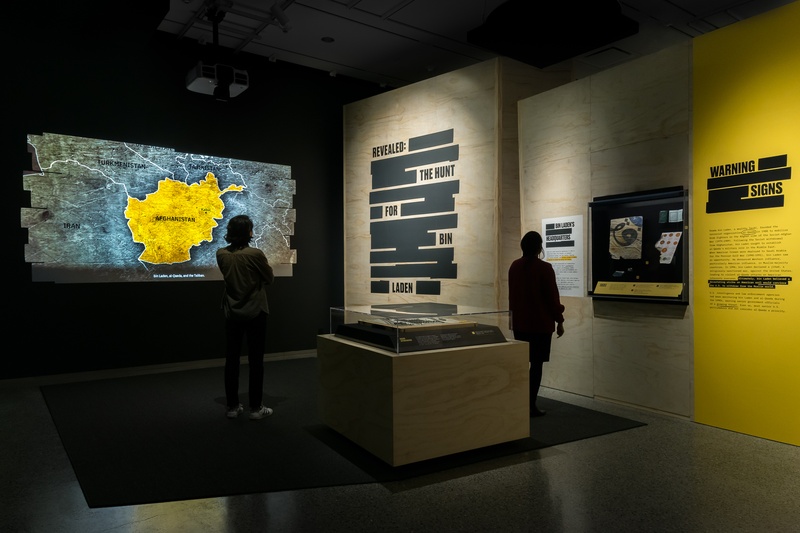 The show's strong media presence comes in surprising shapes and forms as well: media you can look down at, projections near architectural scale-models, and panoramas of forbidding mountain ranges. A top-down projection foregrounds a key exhibition artifact: a scale-model used to plan the raid that brought bin Laden to justice. Media for this project was produced by Batwin + Robin.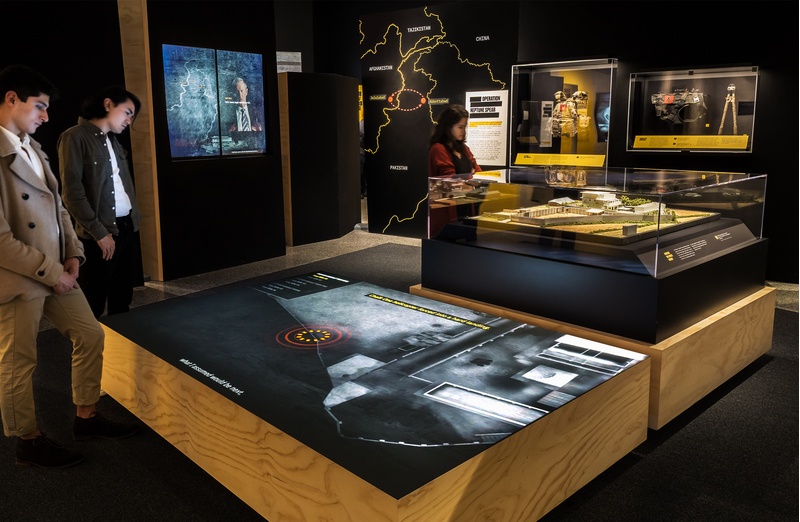 More on the exhibition can be found in New York Times, Washington Post, Fox 5 New York, ABC7, Al-Jazeera, Communication Arts and many outlets through the Associated Press. This clip aired on Fox 5 shortly before the public opening:
Revealed: The Hunt for Bin Laden is the second special exhibition designed by C&G Partners for the National September 11 Memorial & Museum. The first was the previous changing gallery show at 9/11, Comeback Season: Sports After 9/11, which was on view 2018-2019. In addition, the studio earlier created permanent wayfinding signs, directional kiosks, and site maps for the Memorial in 2011 and the Memorial Museum in 2014.