C&G Partners was honored to design the exhibition "The Art of the Brick," which opened yesterday at Discovery Times Square, featuring the fine art of LEGO (TM) artist Nathan Sawaya. The show, the largest of its kind anywhere, has appeared already in enthusiastic press mentions across the region, country and world.
For what may be the first time ever, a single exhibit appeared today with photos on the front page, weekend arts front page, and inside the weekend arts section of the same edition of the New York Times. The online version of the positive review by Edward Rothstein has a complete slideshow from inside the exhibit.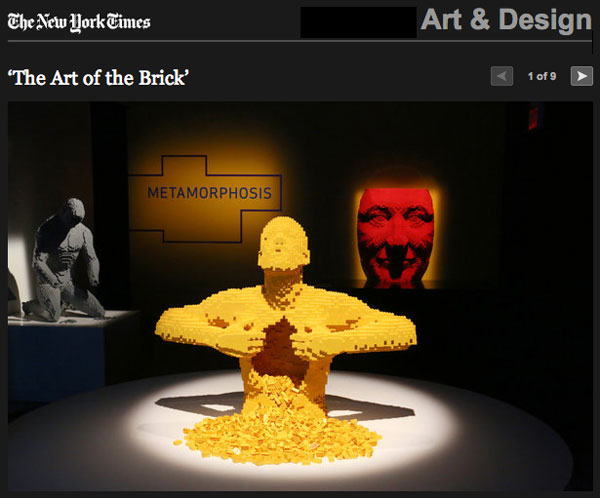 Nathan's art, and the exhibit interiors, are also featured in a video interview by ABC News 7 … and in an impressionistic video uploaded to YouTube by the Agence France-Press (AFP).
Articles on the show have also appeared in the Huffington Post,  Wall Street Journal, and New York Daily News, among others. Additional press has appeared from as far away as Korea, Poland, Denmark, Russia and Israel.