C&G Partners, with design and technology collaborators Potion, have designed a new visitor experience named "Voices of Liberty" at the Museum of Jewish Heritage, in a gallery overlooking the Hudson River.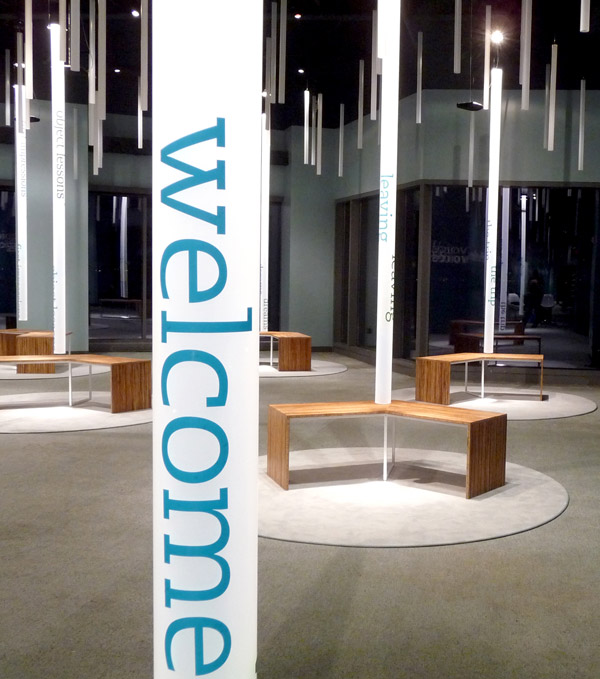 The project draws on the Museum's gripping collection of audio testimonials of immigrants, many of whom are Holocaust survivors and arrived in the United States through New York Harbor. Several testimonials describe how the immigrants felt when they first saw the same Statue of Liberty that gallery visitors see in the distance.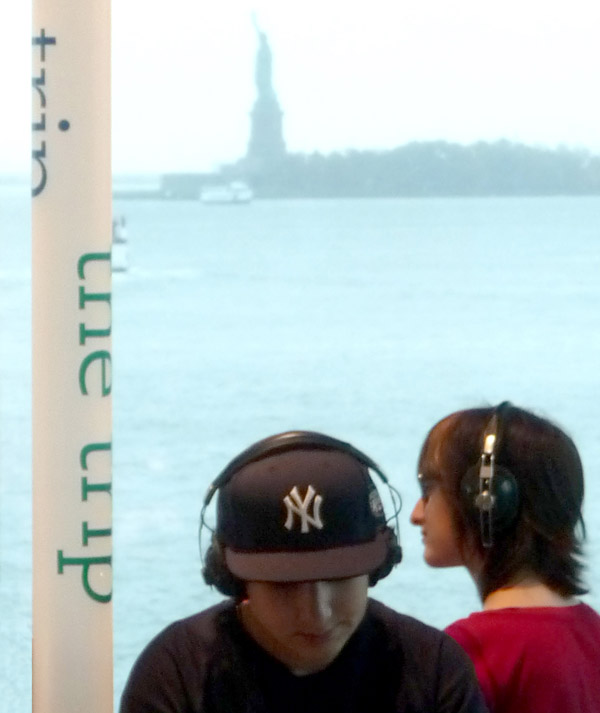 Every visitor is given a hand-held device and high-fidelity headphones. Each voice theme "lives" in a zone in the room with a clearly marked perimeter on the floor. Visitors trigger new themes by moving from zone to zone, turning the entire gallery into a sensor and moving the interaction off the screen into the room.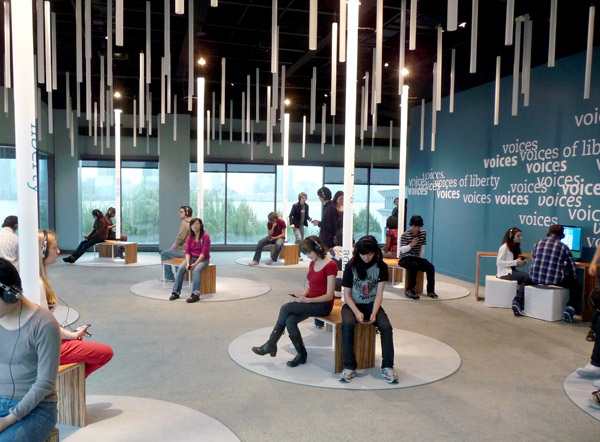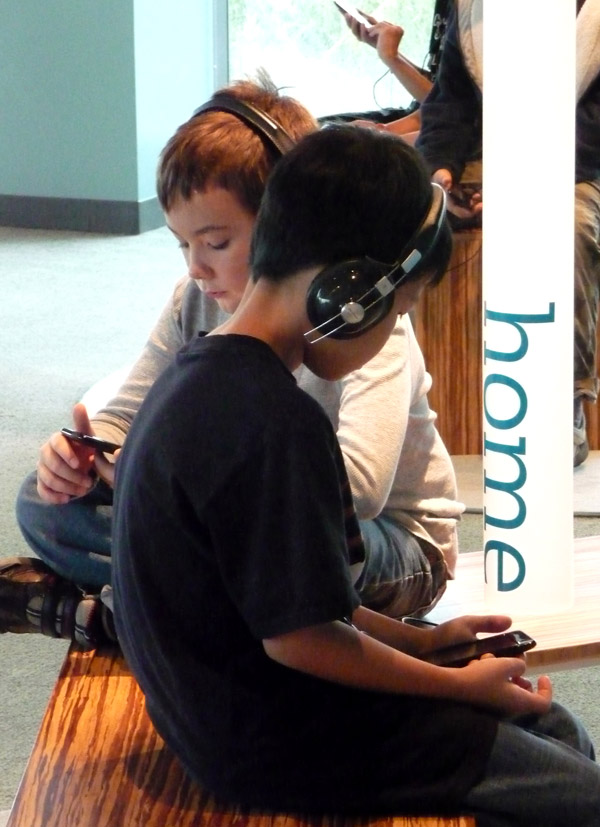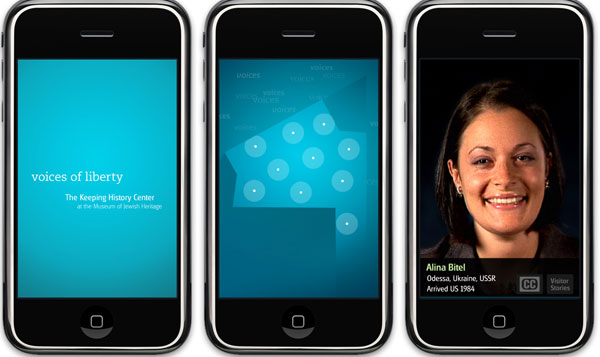 This is not an audio tour, but a communal group experience. As visitors walk into a zone, the main audio loop for that theme is already playing, synchronized with all other visitors in that zone, allowing all visitors to experience the same emotions at the same time. From there, users can choose additional content to experience using the hand-held interface.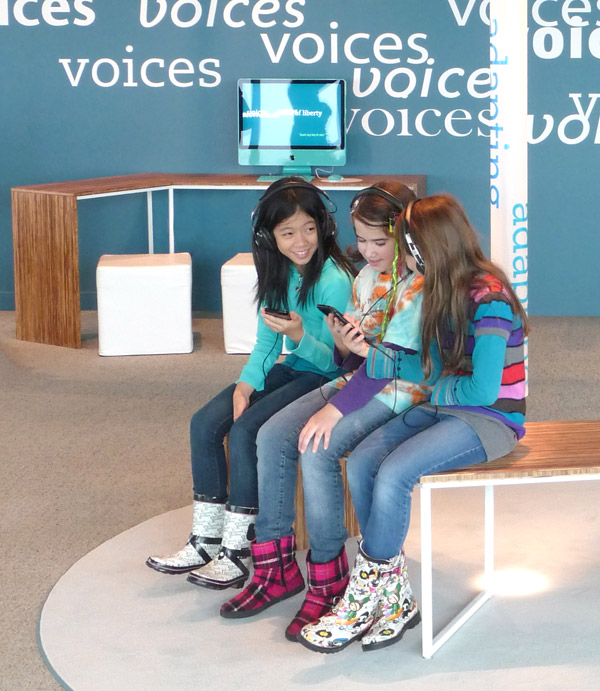 This is a "Museum 2.0" experience: visitors can use a web interface, either in the gallery or online anywhere, to leave their own stories. The stories appear in turn in the hand-helds and accumulate to become part of the museum collection as well.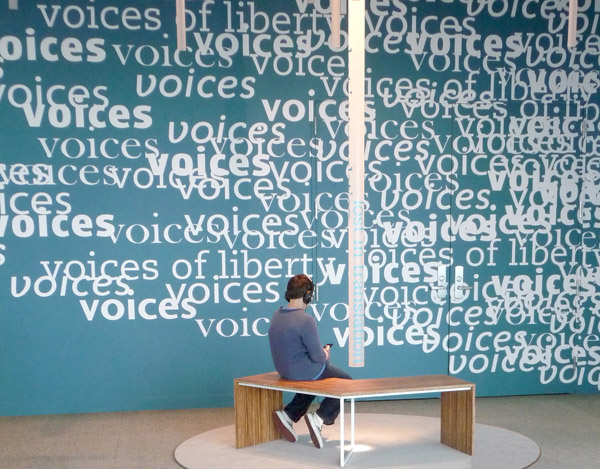 The other new installation in the Museum's "Keeping History Center" is "Timekeeper," an interactive exploration of Andy Goldsworthy's sculptural piece "Garden of Stones" just outside the gallery. This experience uses interactive time-lapse video to give visitors the ability to control time, and watch this monumental growing garden evolve over time.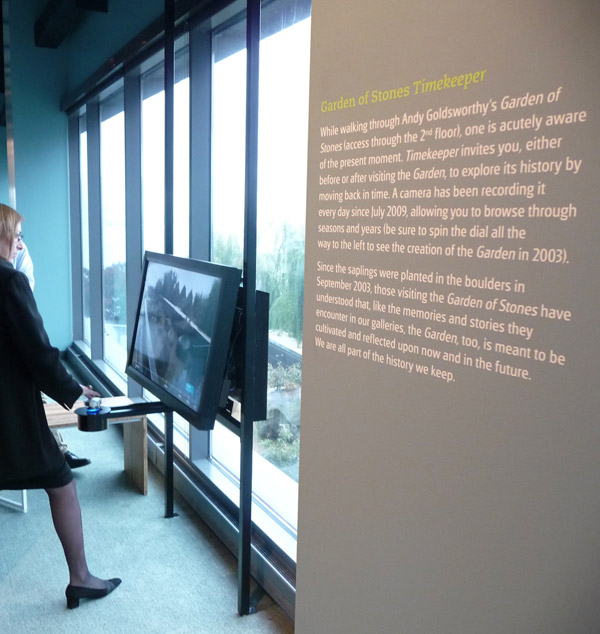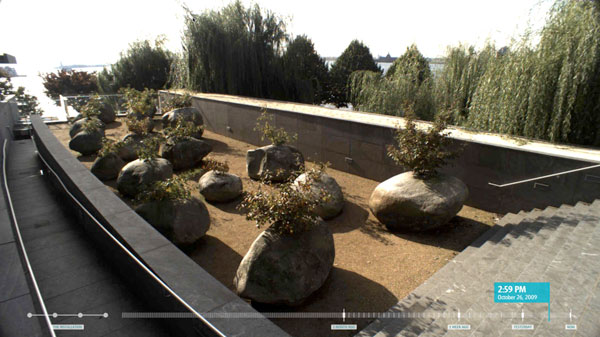 The space is scheduled to open to the public on Friday, November 6th. C&G Partners and Potion will continue to collaborate on Phase II of the project, set to debut in 2011. In Phase II, interactive digital surfaces will give the visitors the ability to act as curators for their own experience. Project credits: Client: Museum of Jewish Heritage – A Living Memorial to the Holocaust Concept, Exhibit, Graphic Design, Web Design: C&G; Partners Concept, Technology Design: Potion Sound Design: Andy Green Exhibit Fabrication: South Side Design & Building/Final Push Construction Custom Furniture: Dan Greene Graphics: Applied Image Custom Carpets: Masland Contract Electrical Wiring: Grace Building Services Painting: Gary Kurland Custom Acrylic Tubes: E&T; Plastics Audio Testimonies: USC Shoah Foundation and Museum of Jewish Heritage Project Grant: Lower Manhattan Development Corporation Photography: C&G; Partners , Melanie Einzig , Potion