This month marked the end of the first full year of exhibition touring for "America's Favorite Architecture," the firm's traveling exhibit for the American Institute of Architects, shown below at the new headquarters of contract furniture maker Haworth in Michigan. The exhibit is still going strong, touring around the country.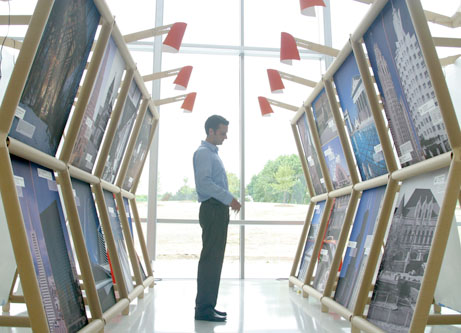 The exhibit celebrates the 150th anniversary of the AIA and documents the results of a poll to determine which 150 structures were most beloved by the American public and the architectural profession. The project was designed with green principles in mind, to communicate the AIA's theme for their 150th year, "Sustainability." At its last stop, all its parts will be cannibalized for local reuse, but for now, it's still going strong. Two cloned versions are traveling simultaneously so that as many venues as possible can be visited in the shortest time. Read on for a gallery of more snapshots of some of the venues from the first year, from libraries to corporate HQ's.
For more on AFA: See images from the inaugural installation at AIA headquarters in Washington, D.C., here. See all 150 buildings and vote for your favorite at www.favoritearchitecture.org, the Webby-Award-winning website designed by the firm as an online companion to the exhibit. If you have Google Earth, be sure to check the AIA layer for a tour around the country, with layer graphics also by C&G Partners.