Designed for Historic Hudson Valley by C&G Partners, People Not Property: Stories of Slavery in the Colonial North  is a compelling new interactive documentary experience, leveraging unique web design and technical characteristics to tell the often-overlooked story of enslaved individuals in the colonial North.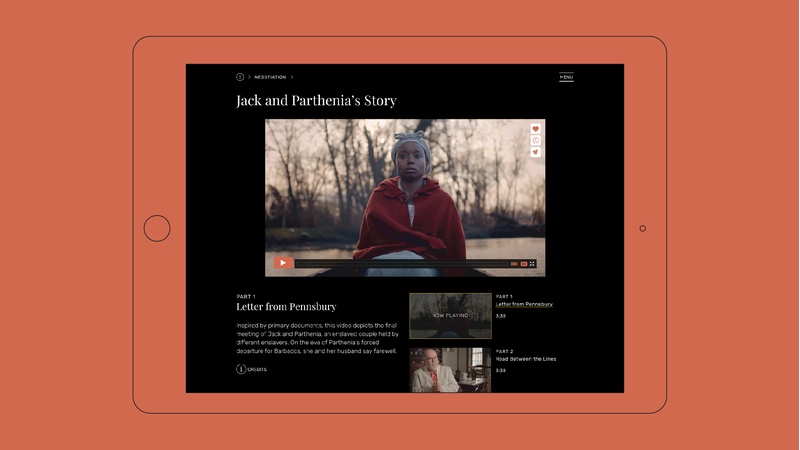 This content-rich educational resource is designed for students, teachers, and the general public. Responsive design and UX reveal a neglected story in a fact-based yet heartfelt way, delivering a personalized narrative of the past that connects with issues of race still present today in America.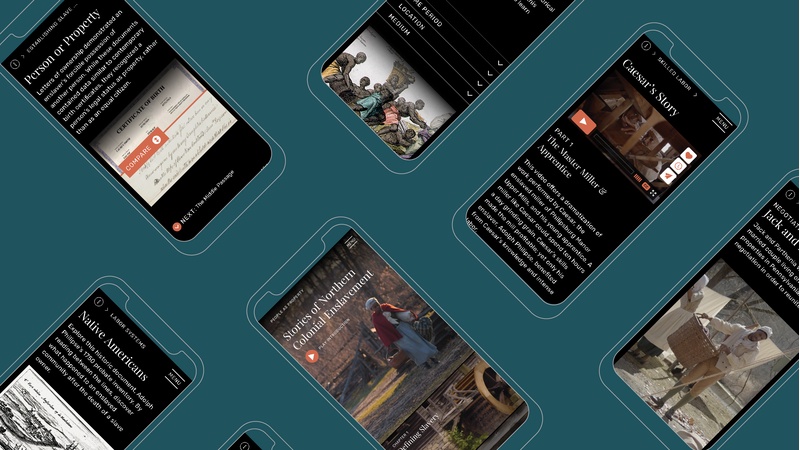 Design, UX, development, and media production teams at C&G Partners worked with Historic Hudson Valley (HHV) for more than four years on the interactive documentary, enlisting support from scholars, historic site interpreters, artists, and filmmakers to bring this web experience to life. The studio's extensive experience with immersive physical and digital exhibitions was able to be applied to the People Not Property online visitor experience.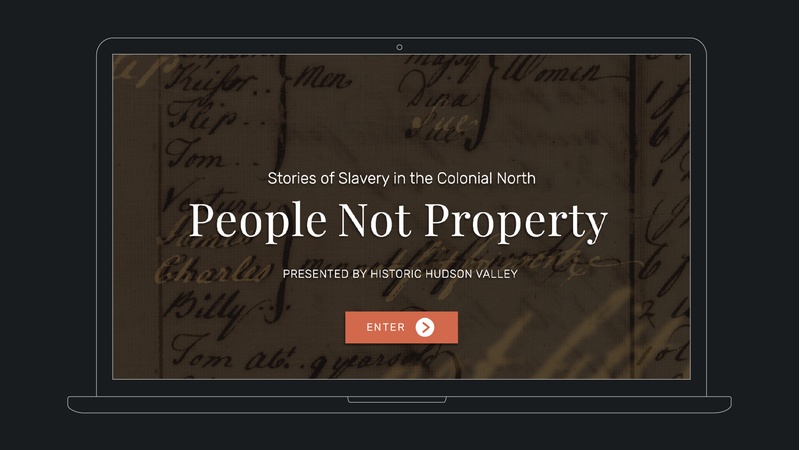 The site architecture enables users of all ages to engage at different levels, providing satisfying top-line summaries of information for casual viewers, and enabling viewers with greater interest to go deeper into additional topics. Users explore enslaved individuals' stories by reading, watching videos, exploring interactive documents, answering questions, and making comparisons. The site's color palette and aesthetics convey the serious nature of the content through dark tones. The muted palette enhances the video content, and historical documents emerge from the darkness, inviting exploration.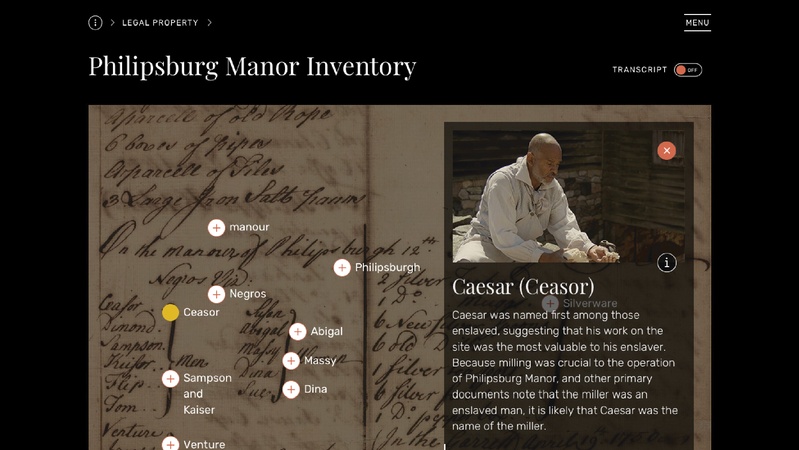 A unique "TimeMap" navigation element enables viewers to learn what was happening at different points and places in history and links back into the main stories of the website. The interactive elements are uniquely suited to the type and quantity of content available on a given topic. Facts and figures are depicted in easy-to-understand infographic animations.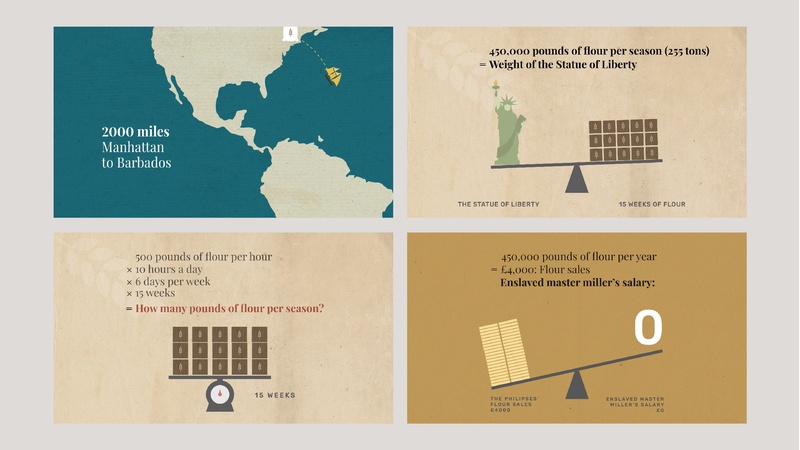 The heart of People Not Property is numerous original short-form films covering dozens of important subject areas. C&G Partners had the rare opportunity to bring this story to life by filming reenactment videos of the documented activities of enslaved individuals in the Colonial North. Some of the videos were shot on location at an actual northern provisioning plantation at Philipsburg Manor Upper Mills, an HHV property in Sleepy Hollow, NY where enslaved individuals worked and lived.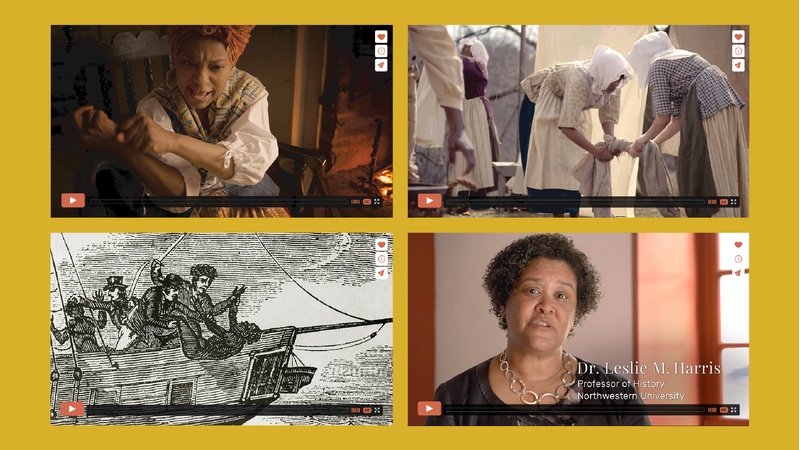 To convey the appropriate tone and level of scholarly rigor, the videos were created as interpretations without dialogue between characters or a musical score to avoid dramatizing the events. These vignettes focus on the human element, based entirely on the facts of how enslaved individuals lived and worked, or the situations they were in based on primary documentation. Scholarly interpretation and testimonials follow the reenactment videos as documentary commentary.
The site's People Not Property focus posed a unique challenge to the studio in terms of visual presentation, since sparse historical documentation about enslaved individuals is available. C&G Partners analyzed the available information to determine the most appropriate digital format for each story that would engage viewers in understanding the basic facts of this history. For example, the "Joan and John Jackson Story" depicts a family whose members transitioned between slavery and freedom is told through a series of original illustrations and animated silhouettes, since no actual portraits of them exist.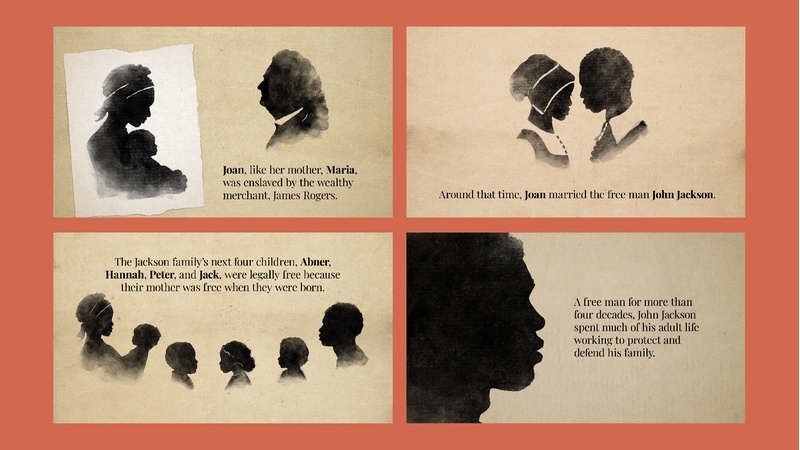 Another feature, "Person or Property," uses an image of an enslaver's certificate of ownership alongside a modern-day birth certificate, prompting visitors to contemplate how individuals were treated like possessions instead of people with rights.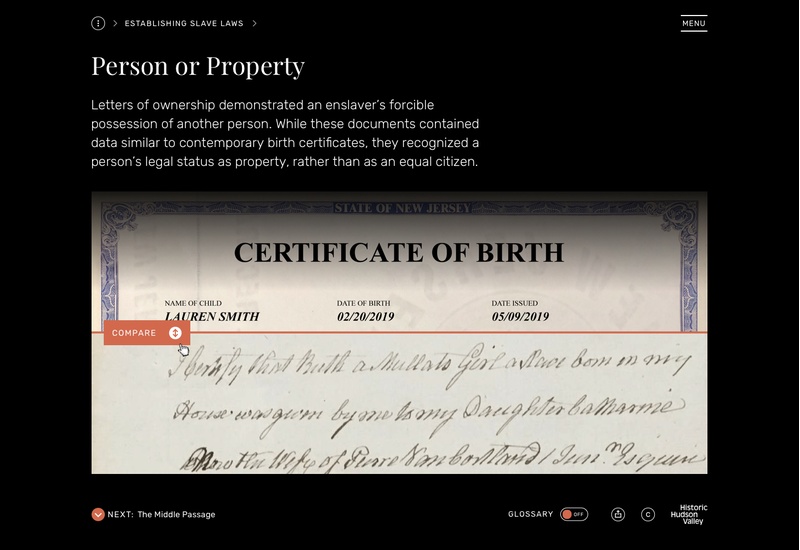 Central to the site's design was making the extensive content into an educational resource, developed with an eye towards the topic being taught to middle and high school students. One of a series of HHV educational projects funded by grants from the National Endowment for the Humanities, the People Not Property interactive documentary is designed to drive engagement through prompted questions and encouragement of critical thinking.