From Berlin, the first images of a new C&G Partners project at the Bundestag (German National Parliament). "On September 6, 2022, in commemoration of the 70th anniversary of the Luxembourg Agreements, an exhibition opened at the Bundestag, the Parliament of the Federal Republic of Germany. The exhibition, a series of cubes illuminated from within, details the history of the Luxembourg Agreements – from the atrocities of the Holocaust to the deep-seated tensions surrounding the landmark negotiations, to the ongoing expansion of recognition, compensation, social welfare services and Holocaust education facilitated by the Claims Conference." – Gideon Taylor, President, Claims Conference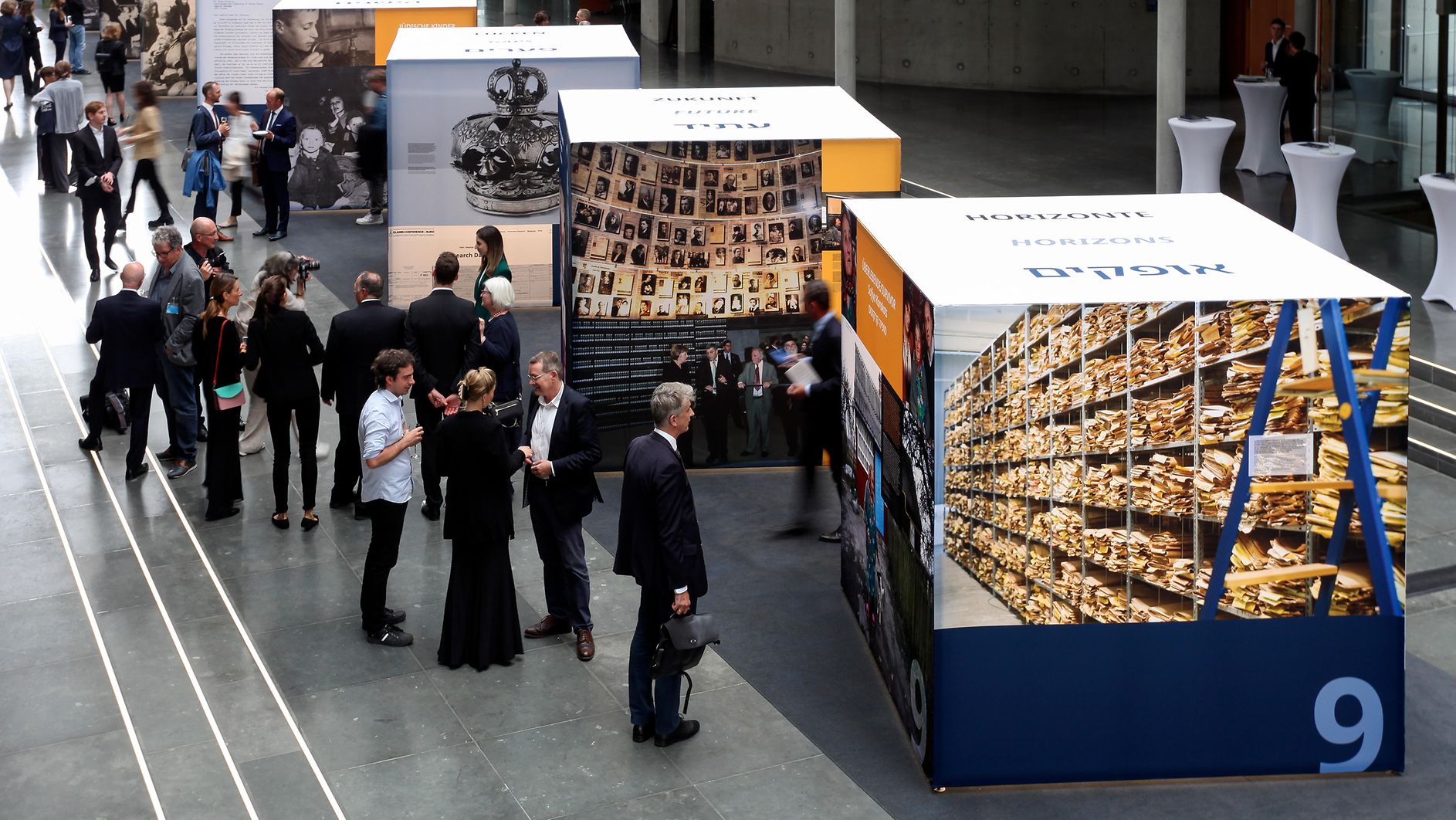 Nine massive, angled, illuminated cubes create an  exhibition detailing the Holocaust, the formation of the Luxembourg Agreements, and the resulting progress the Claims Conference works towards. The cubes deliberately reference the structures dedicated to the Holocaust, including the concrete slabs of the Memorial to the Murdered Jews of Berlin or the Stolpersteine blocks in European cities.
The Luxembourg Agreements — between the Claims Conference, Israel and Germany — were made 70 years ago to address the economic and humanitarian wrongs of the Holocaust. The project was produced by the Claims Conference (full name: Conference on Jewish Material Claims Against Germany), the BMF (Bundesministerium der Finanzen or German Finance Ministry), Suzanne Zuber as editor/translator, and Dr. Gabriel Goldstein as curatorial consultant. C&G conceived the physical and visual exhibition for this unique space in the Paul-Löbe-Haus of the German Parliament, in Mitte, Berlin.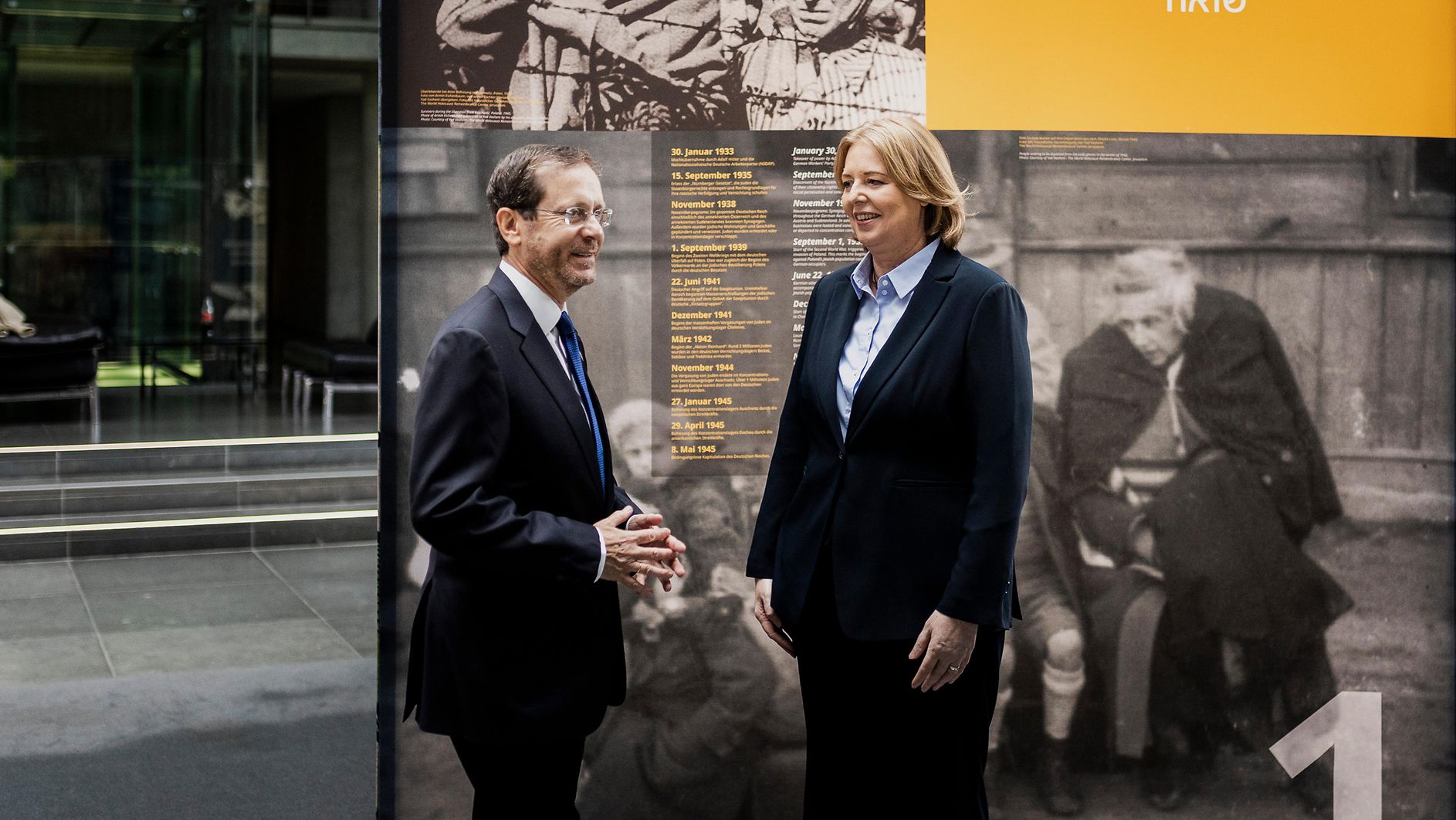 The opening ceremony was attended by President Isaac Herzog of the State of Israel and President of the Bundestag Mrs. Bärbel Bas (above). President Herzog spoke before the Bundestag, the Parliament of the Federal Republic of Germany, to commemorate the anniversary. He then personally toured the exhibition. Also in attendance were German State Secretary Prof. Dr. Luise Hölscher, and Knesset Museum Director Dr. Moshe Fuksman-Sha'al.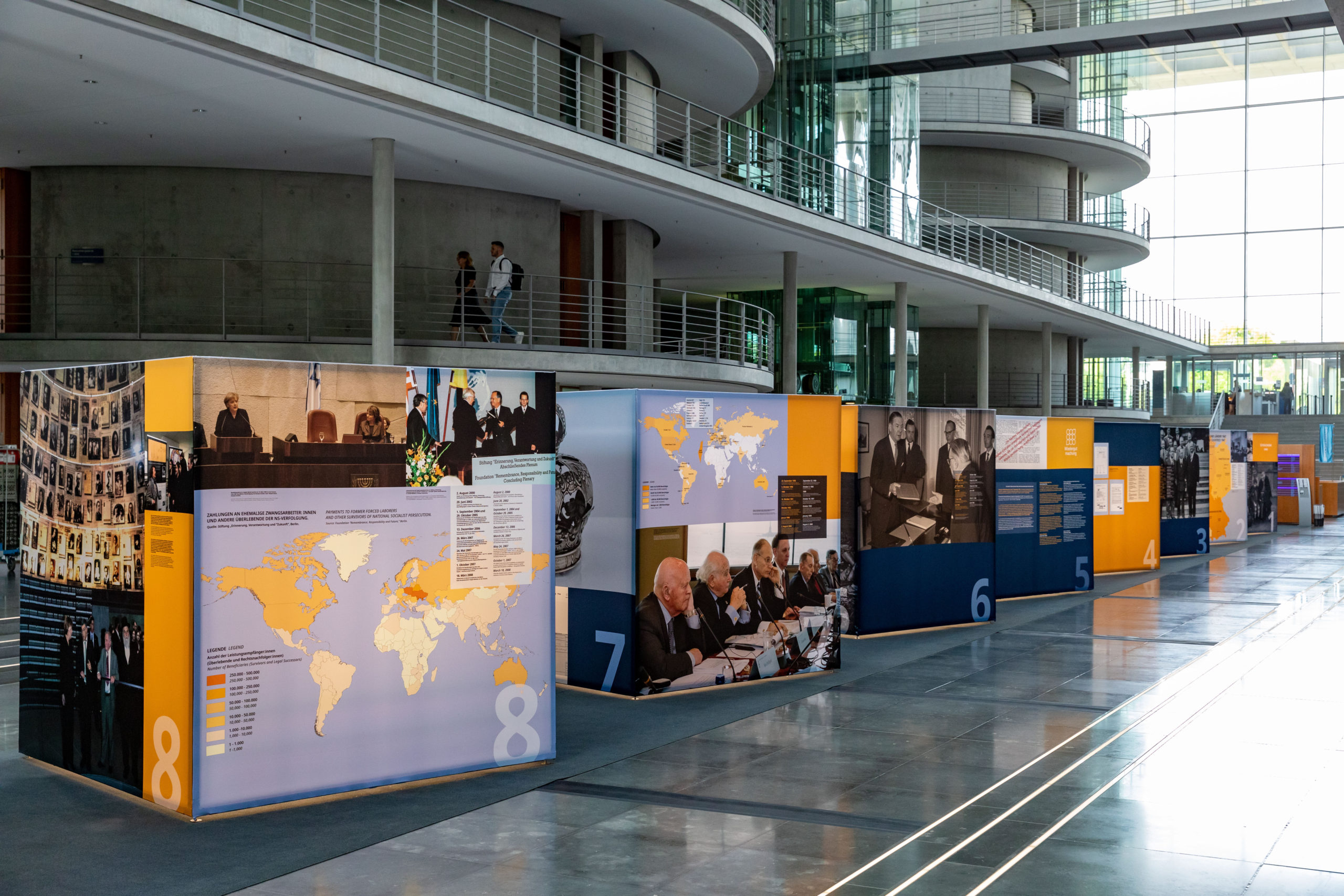 At dusk, the cubes can be seen glowing in a depiction that literally brings history to light.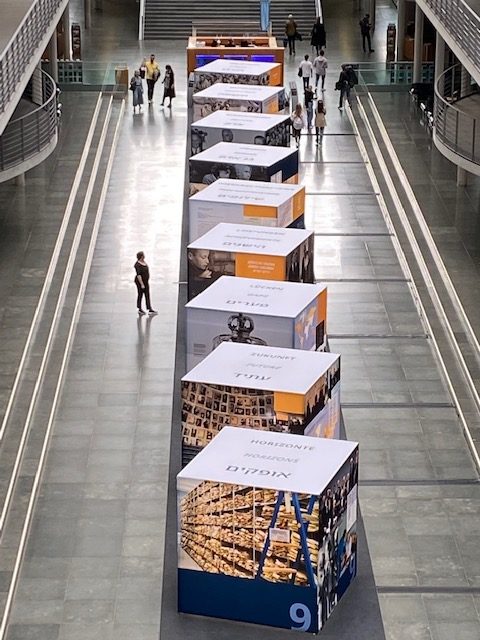 Walkways high above the exhibition provide the opportunity for additional messages facing upwards that can only be viewed from these bridges.
This project is one of many in C&G Partners' past focused on Jewish heritage and the Holocaust era, including "Against the Odds" at the Museum of Jewish Heritage and "Some Were Neighbors" at the US Holocaust Memorial Museum.
Images courtesy of the German Bundestag.